Biographies
Mother Rytasha*
The Angel of Bengal
Mother Rytasha was given every conceivable blessing at birth. Born into a rich and aristocratic family, daughter of a German Baroness, she was educated in Europe and America. At 20 she was voted by an English newspaper as one of the most beautiful women in the world. In 1985 she sold her home, jewels, and properties, to give all to "The poorest of the poor." Called by God, she left everything and today travels the world teaching the Pure Spiritual Truth found at the heart of all religions. It is a Message of Love, which breaks down false barriers and brings the peace, which frees the world. Some call her the prophet of this age, others, a saint, but when asked who she is, she answers only that she is a servant of the servants of God.
*Biographical excerpt- The World Encyclopedia 2004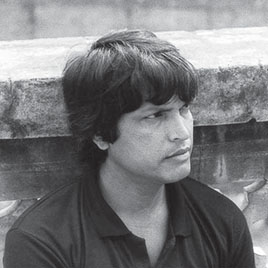 Razzaque Khan
Razzaque Khan was born in Rajshai, on January 1, 1955. As a boy of twelve, competing nationally, he won a full scholarship to Cadet College, where he was an outstanding student, athlete, and leader. When he was just 16 years he old he joined, as a Freedom Fighter, in the War of Liberation for Bangladesh. After fighting bravely in many battles, he was captured, tortured, court-martialed, and sentenced to death by firing squad, but managed to escape the night before his execution. After the war he attended Rajshai University where he got an Honors Bachelors Degree in Social Work and later received his Masters Degree in Social Welfare (Social Science) from Dhaka University. He then worked for World Vision International as a Staff Development Training Officer, and later as a Social Welfare Officer. A revelation changed his life and becoming a disciple of Mother Rytasha he took over leadership, devoting his whole life, to establishing The Religion of Love for the peoples of the world.
---
RELIGION
THE WORD RELIGION, AS USED IN, THE TEACHINGS OF MOTHER RYTASHA
IS TO BE UNDERSTOOD IN ITS ORIGINAL MEANING,
RE - AGAIN / LIGIO - TO LINK
RELIGION - THE PROCESS AND PRACTICES BY WHICH ONE CAN COME AGAIN TO GOD.
"Different Religions May Be Likened
To The Digging Of A Well.
If You Dig For Water In A Rocky Place
You Need A Certain Kind Of Equipment.
And If You Dig In A Sandy Place
You Will Need Another Kind Of Equipment.
So On the Surface There Will Be Differences,
But The Goal Of Both Wells Is The Same.
Water.
And Water Once Reached Is
Water.
So It Is With Religion,
Which Is Given According
To Different Language,
Custom, And Culture.
On The Surface
There Will Be Differences,
But The Goal Of All Religions
Is The Same.
God.
And God Once Reached Is
God."
- from the book "The Religion of Love"
[And the first to speak was the senior most man, well known as a scholar of prodigious learning. "We have heard much of The Religion of Love," he said, "and studied in depth and detail that which you teach. Those who are enlightened," he continued, "have compared the different religions to rivers, saying, as all rivers reach their same goal in the same sea, so too do all religions reach their same goal in the same One God. So we ask of you. Is The Religion of Love to be as another river? And if not, what then are you?" And to this, their first question, she answered them, saying simply, "If, as you say, religions are as rivers, then we are as water."]

- from the book "Answers"

© 2008-2019 TSOC-FRI
Designed by: J. Paul